QR Codes For Asset & Equipment Management: Dynamic Data Access
Business in equipment service and maintenance, property management, construction or other field operations often require access to current information on the equipment, property, asset or product. Our dynamic QR code service uses QR codes and mobile technology to provide up to the minute information to employees or clients. Authorized users can access detailed asset information, including images, by scanning QR code tag or labels with a smartphone.
You do not need to reprint QR code label or tag to update information that users see when they scan QR code. Administrator can change information via secure web inteface at any time.
QR Codes For Asset and Equipment Management

When servicing equipment, property or other assets technician needs to know the details of an asset (s)he is working with. Customers, on the other hand, can benefit from access to specifications, instructions and manuals. Depending on the nature of an asset and who scans it (employee or customer), accessible information may include technical specifications, emergency procedures, lock out / tag out procedures, technical drawings, floor plans, warranty expiration date, last service date and details, usage instructions and manuals, url to pdf documentation, etc.
Asset information can be changed as needed by the administrator via the web dashboard, so accurate up-to-date data are displayed when user scans QR code tag or label.


QR Codes For Laboratories

Labs can allow their customers to access the result of an analysis by scanning QR code on the sample with a smartphone.
The client needs to tag a sample with QR code, and enclose the same QR code with the sample shipped for analysis. Once lab receives a sample and perform required analysis, lab's employee enters sample data to the computer. At this point e-mail is sent to the client notifying him that results are ready. From this point on, client can access composition of a specific sample by scanning QR code on the sample tag with a smartphone. Fast delivery and no lost or misplaced data!

QR Codes For Food and Products Packaging

Dynamic QR codes on food and products packaging can serve two purposes: provide information and handling instructions to employees, as well as engage customers. Let your customers access product information, story behind it, receipies or coupons by scanning QR code on the label. Print qr code once on the packaging, and change information that you want to display as needed via a web interface.
Want to take assets and inventory under control?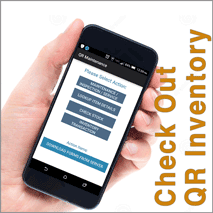 Want to optimize asset maintenance using mobile forms, QR codes and smartphones?